FREE ONLINE MASTERCLASS:


a holistic pediatrician's UPDATED guide to the pandemic:


how to be prepared & what to do if you get sick




Sunday, November 15 at 1pm PST/4pm EST
Enter your name and email address for instant access to the replay.
---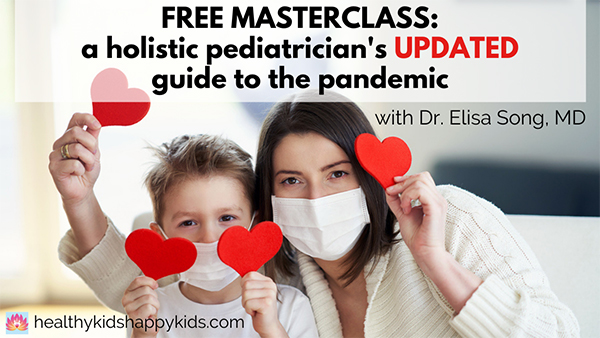 Join me, Dr. Elisa Song, holistic pediatrician and pediatric functional medicine expert, for an in-depth masterclass on how to support you and your children through the current pandemic.
With the cases of COVID-19 already rising, and a possible "twindemic" of COVID-19 and influenza, it's more important than ever for us to know how to build up our immune resilience through integrative and functional medicine strategies.
My son Bodi was hospitalized with COVID-19 in March, with all the signs of possibly developing MIS-C (Multi-System Inflammatory Syndrome in Children). He had severe abdominal pain, headaches, hallucinations, personality changes, fever, shortness of breath, low oxygenation, rash and pink eyes. Using an integrative/functional medicine approach, he weaned off of oxygen and left the hospital within 36 hours, 100% back to his normal, goofy self, and he has been 100% ever since.
Reports show that up to 90% of people with COVID-19 suffer from long-haul, post-COVID symptoms – children and adults. This does NOT have to be you or your child!
Immune Resilience doesn't mean never getting sick. Immune Resilience is the ability to get sick, and recover quickly and completely – to bounce back even stronger for the next hit!
Immune Resilience is exactly what I want for YOU and YOUR CHILD!

With my integrative and functional medicine strategies for the pandemic, I've helped hundreds of families recover fully without long-haul symptoms. Let me show you how!
Join me for my FREE masterclass on Sunday, November 15 at 1pm PST/4pm EST:
a holistic pediatrician's UPDATED guide to the pandemic:
how to be prepared & what to do if you get sick

During this FREE information-packed masterclass, I will discuss:
The latest, up-to-date pandemic information for kids and adults
Commonsense measures to prevent infections
The top foods and supplements to support your immune system
When to call the doctor
What to do if you get sick
How to manage the most common symptoms (fever and cough) with supplements, herbs, homeopathy, essential oils and acupressure
Lessons learned and what I did to help my kids and others recover so amazingly when they had COVID-19

Listen to what other mamas are saying about my first pandemic Masterclass in April:
"Best masterclass ever!"
"We loved listening to your class! Feels so nice to have a better understanding and we feel more confident about what we are doing now and what we need to focus on doing to stay well and catch the symptoms early if the virus is caught."
"Thank you for such a wonderful and informative masterclass. I'm feeling empowered!"
"Loved your masterclass. It was a powerhouse of useful information! You delivered it in such an easy way to understand. The slides were really helpful too! Thank you so much for sharing your knowledge."
"Dr. Elisa Song is amazing pediatrician. She has so much to share! The flu topic seems to be big this time of the year. Thanks to her I feel confident, her approach led me and my family successfully avoiding flu for a few years now. But even if we happened to get sick, I am not worried, we are armed with what to do tips! I have attended her other workshops and I signed up again, just in case if I missed something or maybe there is something new to learn, there is always something new!"
"This wasn't some stuffy doctor in a white coat; she was like my girlfriend who's super smart!"

We're all in this together! Hope to see you at the masterclass!
xo Holistic mama doc – Elisa Song, MD
---
Knowledge is power. Thank you for being part of our worldwide community of parents and practitioners dedicated to helping children thrive naturally – body, mind & spirit! Stay informed by signing up for my
Healthy Kids Happy Kids
newsletter, joining me on
Facebook
and
Instagram
, and sharing this with every mama and papa you know!
In health and happiness,
Elisa Song, MD