FREE ONLINE MASTERCLASS:


A Holistic Pediatrician's Guide to the Pandemic:


How to Be Prepared, and What to Do If You Get It
---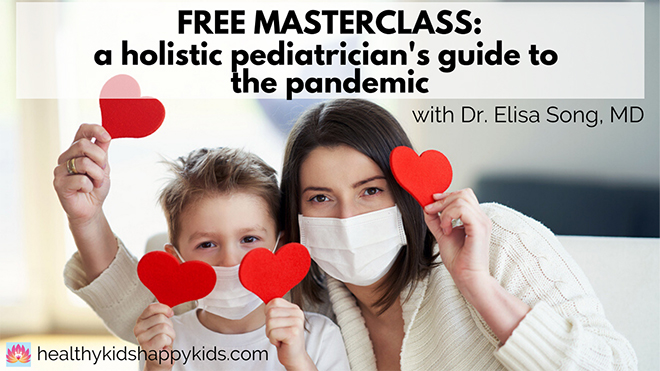 Join me, Dr. Elisa Song – holistic pediatrician and pediatric functional medicine expert – for an in-depth masterclass on how to support you and your children through the current pandemic.
Shelter-at-home orders will soon be lifted, and as society re-opens, we anticipate a resurgence in cases. We need to be prepared! Current estimates are that by the time the pandemic is over, up to 70% of us will contract COVID-19. The latest reports show that children are not immune, and are getting sick more than previously thought. However, the good news remains that the vast majority of children and adults – at least 80% – have mild to moderate symptoms and recover without complications, even if they require hospitalization
If most of us at some point will contract COVID-19, the most important question is not how to prevent ourselves from getting it, but instead:
What can we do to make our immune systems so resilient that we become the 80% or more of the population that gets COVID-19 and does well?
During this FREE information-packed masterclass, I will discuss:
The latest, up-to-date pandemic information for kids and adults
Commonsense measures to prevent infections
The top foods and supplements to support your immune system
When to call the doctor
What to do if you get sick
How to manage the most common symptoms (fever and cough) with supplements, herbs, homeopathy, essential oils and acupressure
Lessons learned and what I did to help my kids recover so amazingly when they had COVID-19
The masterclass is FREE. But I hope you will stay tuned to the end when I'll reveal a special opportunity for YOU to help support some inspiring nonprofit organizations who are providing invaluable support for our front-line workers and those in need during the pandemic.
We're all in this together! Hope to see you at the masterclass!
xo Holistic mama doc – Elisa Song, MD
---
I started
Healthy Kids Happy Kids
to empower parents to help their children thrive naturally – body, mind, and spirit!
Knowledge is power. I hope you'll enjoy my blogposts where I share my holistic pediatric advice and adventures! Join the Thriving Child Community Private Facebook Group and be part of our worldwide community of parents and practitioners dedicated to helping children thrive! And be sure to follow me on Facebook and Instagram (@healthykids_happykids) for more daily tips and inspiration!
In health and happiness,
Elisa Song, MD