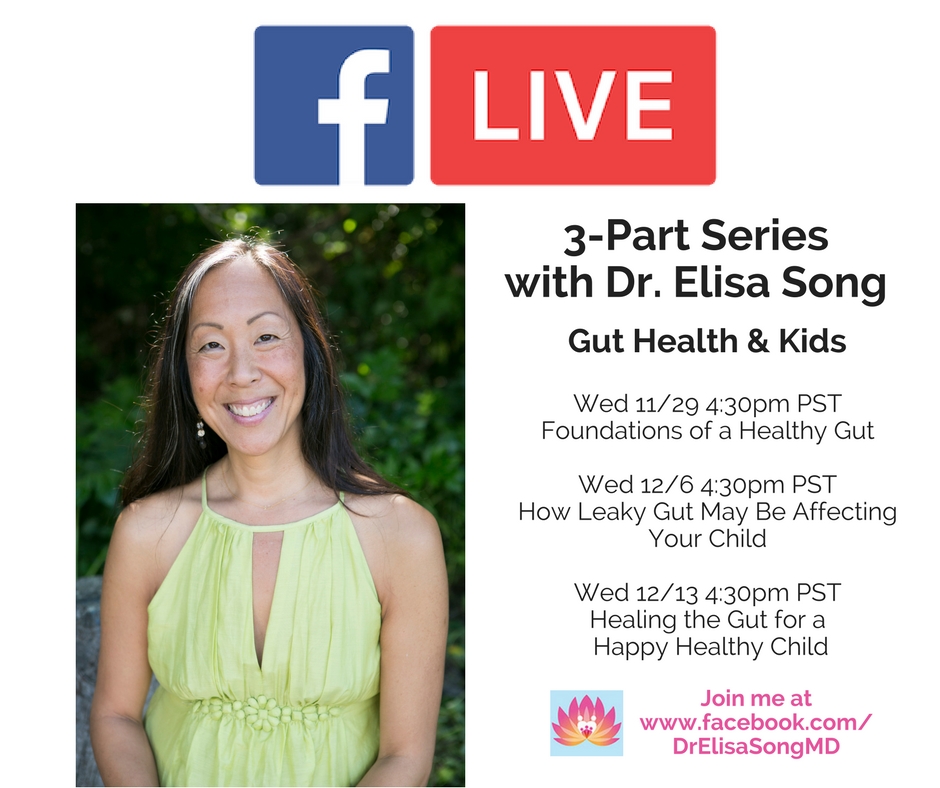 All health starts in the gut, which is why I decided to do a 3-Part Facebook Live series ALL about gut health and your child. Here's the lineup for the 3-part FB Live all about gut health:
Wednesday 11/29 4:30pm PST: Foundations for a Healthy Gut
The gut-brain and gut-immune system connection
The importance of starting out in life with a healthy gut microbiome
How to establish a healthy gut microbiome in your baby/child
How to choose the best probiotic for your child
Wednesday 12/6 4:30pm PST: Leaky Gut and Your Child
A look at the conditions that can be caused by gut imbalance – from asthma/eczema to autism/ADHD to anxiety and autoimmune illness
What is leaky gut and gut dysbiosis?
How can you tell if your child has a leaky gut and gut dysbiosis?
What are the steps to healing your child's gut?
Wednesday 12/13 4:30pm PST: Heal the Gut, Heal Your Child
How healing the gut can heal your child
A recap of the 5R program to heal a leaky gut
A deeper look at how pediatric functional and integrative medicine and healing the gut can help your child with asthma, eczema, ADHD, anxiety, constipation, and more!
How to Join Me:
Like and follow my Healthy Kids Happy Kids Facebook page
Turn on all page notifications
Visit my page at 4:30pm PST/7:30pm EST each Wednesday
Share the love – tag, share and spread the word to any parent you know who could benefit from this in
Can't wait to see you there!
xo Holistic mama doc – Elisa Song, MD
P.S If you miss any of the live sessions, they will all be recorded and available on my Healthy Kids Happy Kids Facebook page.