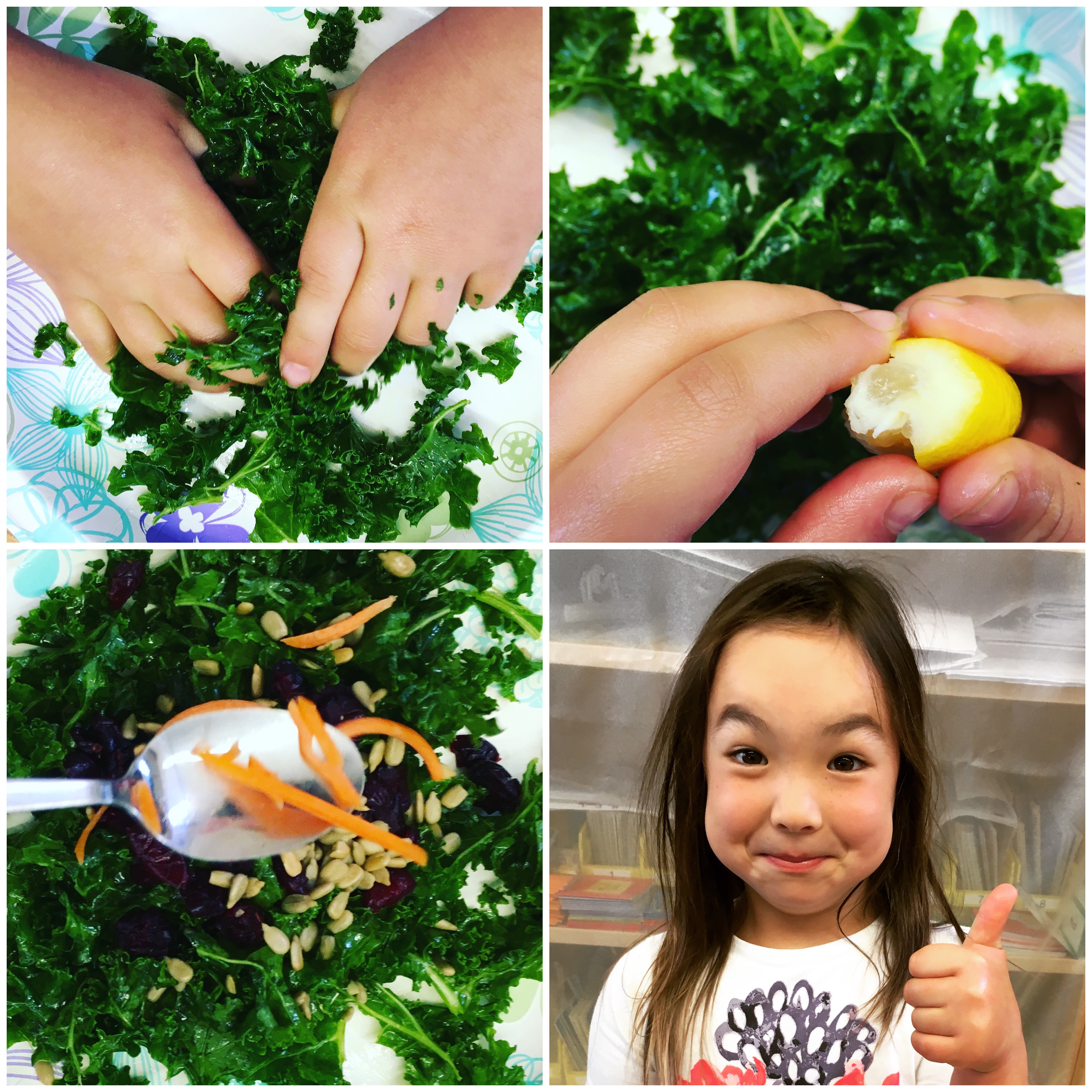 It's Friday fun cooking at Kenzi's school. You never know what's gonna be a hit or not with these krazy K/1 kids. Some days you get it right, and other days it's a "please-take-a-no-thank-you-bite" kinda day. But today we hit it right!
I decided to shift gears from our usual cooking projects and do something a bit more savory (aka healthy!). Today was super easy lemony Kale Salad. Some kids had never had kale before, and others had only had kale as kale chips. Shocker – hands down the kale salad was a hit, and almost all the kids ate it with gusto! Only one child (who shall remain nameless), ran to the sink to spit out his first bite…
Ingredients:
Kale, washed and dried
Avocado or olive oil
Lemon
Sunflower seeds
Dried cranberries
Shredded carrots
Other optional salad fixins' as you like (i.e., pumpkin seeds, mandarin orange slices that the kids can peel themselves, avocado chunks, etc.)
Directions:
Give each child 1 kale leaf. Have each child pull kale off its stem.
Rip up kale into bite size pieces in a personal salad bowl.
Pour a little oil on top of the leaves and have each child "massage" their kale. Really work it! The more you massage, the more tender the kale leaves get.
Give each child a lemon wedge to squeeze over the salad.
Have each child add condiments to their liking – sunflower seeds, cranberries, shredded carrots, etc. You can get creative here
6. Grab a fork and enjoy!