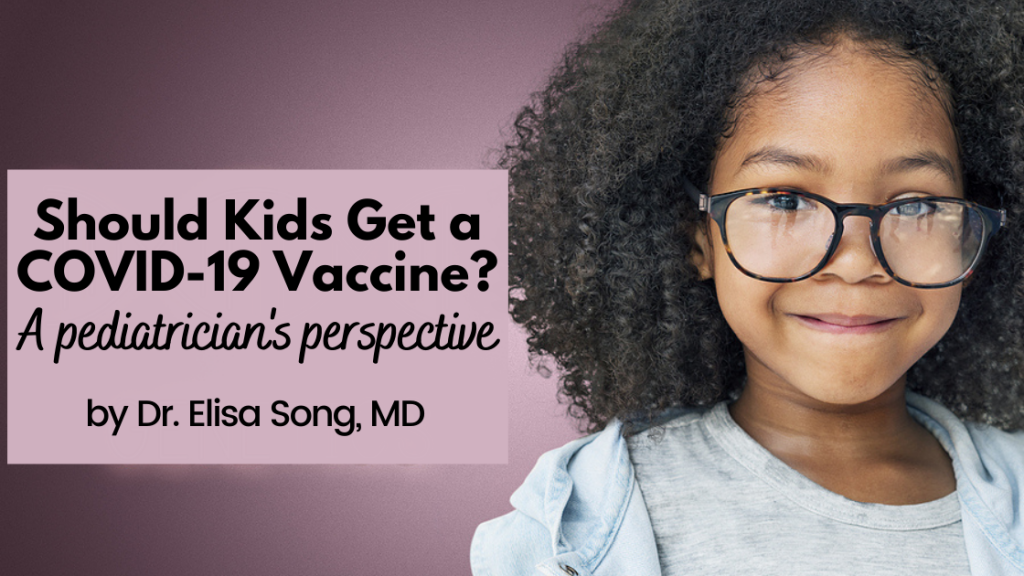 [UPDATED: September 26, 2021 to take into account data since the Delta variant became the predominant SARS-coV-2 strain in the US at the end of June 2021.]
Some parents had already decided that they were going to be the first in line to get a COVID-19 vaccine, as soon as Emergency Use Authorization was granted by the FDA for use in 12 to 15-year-olds on May 10, 2021. And now are anxiously awaiting authorization for the COVID-19 vaccine for 5-11 year olds expected shortly. Other parents had already decided that there was no way they would ever get a COVID-19 vaccine for their kids, even if Emergency Use Authorization was granted.
This article is not for either of those parents.
This article is for those parents who have questions. Those parents who may have had the vaccine themselves, and who may want the vaccine for their kids, but have hesitations about the novel mRNA technology and lack of long-term safety data in kids. Those parents who, in light of the fact that the risk to the vast majority of kids for serious disease and death from COVID-19 is so low, and a link to myocarditis and the vaccine is confirmed, want reassurance that the vaccine's short-term and long-term risks for serious adverse events are as low, or lower, than the risk from COVID-19 infection.
I am here as a Stanford-, NYU-, UCSF-trained pediatrician to share what I know to help you and your child make as informed a decision as possible, given the limitations of the information we currently have.
I am here to share the science – even if that science goes against your current beliefs and biases. Don't just look for evidence that confirms what you currently believe is true – that's called Confirmation Bias. That's not good science. That's not good medicine. That's not good policy-making. That's not good decision-making.
From writing the first article published on a functional and integrative medicine approach to COVID-19 on February 27, 2020, COVID-19: What a Pediatrician Wants You to Know (1) (an article that went "viral" within hours and to date has had over 1.3 million views), to experiencing the fear and panic that I never want any parent to experience when my 8-year old son, Bodi, was hospitalized in March 2020 with all the signs of Multisystem Inflammatory Syndrome in Children (MIS-C), long before we even knew what MIS-C was — I've poured my heart and soul into researching COVID-19 to help parents just like you navigate the pandemic with calm and confidence, using facts over fear.
Step back in time to March 2020, just after we went into lockdown. Just after the World Health Organization declared COVID-19 a pandemic on March 11, 2020. Remember the fear, the anxiety, the collective worldwide panic? We had no idea how kids were going to do with COVID-19. And if COVID was like the flu, which we believed at that time, kids were expected to do worse than adults – much worse. Now fast forward to June 2021, and we're in a very different place. We know that the vast majority of children do well and survive, even if they get very sick, and even if they are hospitalized.
But fear has ruled our lives as parents for the last year and a half. Many of you are afraid of your kids getting sick with COVID-19. But many of you are also afraid of your kids getting serious adverse reactions from the vaccine.
As parents, we need to let go of the fear that gripped us in 2020.
It's time to learn to BREATHE again. It's time for us to start making calm, rational decisions for our children based on science, NOT fear.
So let's start with the science.
COVID-19 vaccination in adults is protecting children
The science currently shows that COVID-19 vaccines are effective in reducing serious disease, hospitalizations and death in vaccinated adults. They may even reduce mild and asymptomatic infection and transmission in adults. (2,3)
This same holds true after the Delta variant became the predominant strain by the end of June 2021. The following graphs compare cases, hospitalizations and deaths in fully vaccinated vs. not fully vaccinated individuals 18 years and older, during the period between April 4, 2021 – June 19, 2021 when there was low prevalence of Delta and June 20, 2021 – July 17, 2021 when there was high prevalence of Delta.

The report notes that as Delta became prevalent, not fully vaccinated adults had a 10.4X higher risk of being hospitalized for COVID-19 and an 11.3X higher risk of dying from COVID-19 than fully vaccinated adults. The report also notes that not fully vaccinated individuals had a 4.6X times higher risk of getting infected in the first place with COVID-19 than fully vaccinated individuals, However, this number must be taken with a grain of salt:
We can no longer accurately know how many vaccinated individuals develop asymptomatic or mild-to-moderate COVID-19 infections (and transmit disease) due to the fact that as of May 1, 2021, the CDC is only tracking vaccinated individuals with breakthrough COVID-19 infections that result in hospitalization or death.
The current vaccines seem to have efficacy against variants, even the concerning Delta variant (first found in India and named B.1.617.2). (4,5) A remarkable real-world experiment (6) where nearly all the adults in a small Brazilian town were vaccinated with the Chinese inactivated CoronaVac vaccine between February and April 2021 found a drop in symptomatic COVID-19 cases by 86%, hospitalizations by 86%, and deaths by 95%. In the meantime, surrounding cities in Brazil continued to have out-of-control surges with the P.1 variant.
COVID-19 vaccination in adults, even without pediatric vaccination, protects children. Even before COVID-19 vaccines had been rolled out to children and adolescents in the US, the number of new pediatric COVID-19 cases added per week dropped by 50% – from 72,067 new cases the week of May 6, to 34,463 new cases the week of May 27 (7) – the LOWEST number of new cases recorded since the week of October 9-15, 2020. (8) This same phenomenon is being seen in Israel, with possibly the highest rates of adult vaccination of any other country. In Israel, the Pfizer vaccine has not yet been rolled out to children under 16, yet pediatric COVID-19 cases have dropped by 99% since January 2021. (9) A recent study (10) found that for every 20-point increase in the rate of vaccination among adults, the risk of infection in children is reduced by half.
Children are less likely to transmit infection
In the early days of the pandemic, there was significant concern that children could be silent spreaders and major transmitters of COVID-19, as is the case with influenza. However, we are no longer in the early days of the pandemic. The preponderance of evidence now shows that children are less likely to spread infection, even if they are asymptomatic.
A large Scottish study (11) of families between March and October 2020 found that the risk of COVID-19 infection and hospitalization in adults was significantly reduced by having children in the household – the higher the number of children, the lower the risk. And this risk did NOT increase once schools were reopened to all children.
Several studies have demonstrated that lower viral load in the nasopharynx has been associated with lower rates of transmission. In other words, the less virus that grows in your nose, the less infectious you are to others. Children in general have been found to have lower viral loads and lower culture positive rates. One study (12) found that nasopharyngeal swabs from children 0-5 years were 80% less infectious as adults.
Another study (13) found that pediatric nasopharyngeal swabs from children < 10 years and children 11-17 years old had a 55% lower rate of growing live virus than adults. Culture positive rates in children < 10 years was significantly lower than for children 11-17 years and for adults. The authors note:
"These results are contrary to what has been observed with other respiratory viruses for which efficient infection and transmission in children often herald widespread community transmission. However, these findings are consistent with epidemiological studies that show limited SARS-CoV-2 spread from children younger than 10 years old."
Children may not be needed for herd immunity …
Increasing evidence (14,15,16) points to long-lasting B-cell and T-cell immunity from prior infection, even mild infection – lasting at least 12 months, and possibly lifelong. And several studies show that T-cell immunity from prior infection likely confers immunity against circulating variants, (17,18,19) even the Delta variant (B.1.617.2). (20)
A large study (21) of over 52,000 employees of the Cleveland Clinic Health System found that while COVID-19 infections increased in those without a prior history of infection who remained unvaccinated, the rate of SARS-CoV-2 infection was essentially ZERO for:
Unvaccinated people with history of prior infection
Vaccinated people with history of prior infection
Vaccinated people without history of prior infection
The authors conclude that "individuals who have had SARS-CoV-2 infection are unlikely to benefit from COVID-19 vaccination, and vaccines can be safely prioritized to those who have not been infected before."
People who have had prior COVID-19 infection should no longer live in fear that they are at risk for re-infection or for infecting others.
People with prior COVID-19 infection are not at LOWER risk for re-infection compared with the risk for vaccinated individuals of developing breakthrough infections with the Delta variant. On the other hand, those with prior infection may be at higher risk for serious adverse events if they do get vaccinated. Receipt of ANY COVID-19 vaccine was associated with a higher incidence side effects in those with prior COVID-19 infection. (22) The Moderna mRNA vaccine was associated with more frequent and severe side effects after the 1st dose in those with prior infection. (23) Prior COVID-19 infection was also associated with increased rates of adverse events after the Pfizer vaccine. (24,25). For a more detailed analysis, please refer to my article "Why Natural Immunity Should (MUST) Count,"
The CDC and FDA must re-consider their recommendations that children and adults with a history of prior COVID-19 infection should still get a COVID-19 vaccine.
Those who have had prior COVID-19 infection or are fully vaccinated should all be considered IMMUNE
Instead of focusing vaccination efforts on children for whom the risk of serious COVID-19 disease and death is very low, the risk for immediate adverse events like myocarditis is under investigation, and the risk of long-term adverse consequences is unknown, vaccination efforts should be aimed at higher-risk adults who have NO history of prior infection. From an ethical standpoint, this policy shift also frees up even more COVID-19 vaccines that can be distributed to other countries that are still feeling the devastating impact of the pandemic.
The ethics of vaccinating children in wealthy countries during a global pandemic
Many prominent physicians and public health officials, including Dr. Vinay Prasad (26,27) and Dr. Monica Gandhi, (28) both from my alma mater of UCSF, have questioned the validity of authorizing a vaccine for emergency use in children when their risk for serious COVID-19 disease and death does NOT constitute an emergency. There are also ethical considerations of distributing vaccines to US children during a global pandemic as US cases continue to drop, while other countries scramble for vaccinations to control their ongoing surges.
The World Health Organization (WHO) (29) stated on June 3, 2021 that vaccinating children against COVID-19 is not a high priority from a WHO perspective, given the extremely limited global supply of vaccine. COVAX (30) is an initiative co-led by the Coalition for Epidemic Preparedness Innovations (CEPI), the Global Alliance for Vaccines and Immunizations (GAVI), WHO, and UNICEF, whose mission is globally equitable access to COVID-19 vaccines. Richard Hatchett (31), the chief executive of CEPI has called on all Group of Seven (G7) richest nations in the world to "step up" and donate urgently needed COVID-19 vaccines to poor and developing countries who are seeing tragic surges. Hatchett notes that, "It's a moral imperative if we want to avoid situations like Peru, if we want to avoid impacts that could rival those of the 1918 flu, we must send vaccine to countries to protect their health care workers and protect the vulnerable populations now … The G7 countries need to step up to that" and have the "political courage" to share doses as soon as possible.
Donating doses to countries in need does not mean that our children will suffer. On the contrary, as Dr. Kate O'Brien, pediatrician and director of the WHO's vaccine department notes, "Immunization of children in order to send them back to school is not the predominant requirement for them to go back to school safely … They can go back to school safely if what we're doing is immunizing those who are around them who are at risk."
The physiologic and psychologic impacts of the pandemic
Getting back to "normal" is one of the best things physiologically and psychologically for our children. But does getting back to "normal" require a vaccine?
There has been an alarming increase in overweight and obese children during the pandemic (32) – likely due to a combination of increased access to snacking, pandemic baking with increased sugar intake, and lack of physical activity. Weight-related health problems are increasingly being seen in children, including high blood pressure, high cholesterol, prediabetes and diabetes, and nonalcoholic fatty liver disease. (33)
These are the very same co-morbidities that significantly increase the risk for severe COVID-19 disease and death in adults.
We must not allow our children to leave this pandemic less healthy than they were before …
Pandemic panic, social isolation, remote learning, academic loss, and re-entry anxiety have all dramatically worsened most children's mental health. (34, 35, 36) Early life stress has a significant impact on children's long-term development along with their physical and mental health. This pandemic is set to be an Adverse Childhood Event (ACE) for many of our children, and ACEs are correlated with virtually every chronic disease in adulthood. What will the long-term emotional and physical effects of the pandemic be for our children? Only time will tell. And for some, the vaccine will be a way out …
If you're a parent of a teen, let's face it – the vast majority of our kids WANT the vaccine. They're begging for it. They view the vaccine as their ticket out of the social isolation of the pandemic and back into the social life that they, as kids and teens, should be having. The peer pressure is huge. The social ostracization is real. Already kids are being effectively excluded from social events, sports teams, and intimate gatherings if they're not vaccinated. Mandates have not occurred yet, but if unvaccinated kids are the only ones not allowed to go to an indoor birthday party, or are the only ones required to wear masks during soccer practice or in school – they essentially are mandated, at least in our kids' minds. And the way things look, vaccines may very well be mandated at some point for schools, camps, travel, and many other activities.
But peer pressure is no way to make personal or public health decisions, especially if the health benefits and risks remain unclear. Children are at very low risk for severe disease and death and for transmitting COVID-19. Children are already protected by those higher-risk adults who are vaccinated around them.
It is imperative physiologically, psychologically, and socially that children get back to "normal" activities and school – whether or not they are vaccinated.
The COVID-19 vaccine for children
Understanding that a) children are protected by the level of adult immunity in the community, whether from natural infection or vaccination, and that b) children are less likely to develop serious disease or transmit infection, allows parents, physicians, and policymakers, to step back and take a calm, rational approach to whether or not children should get a COVID-19 vaccine, and when.
While there may be justifications for a pediatric COVID-19 vaccine, these must be thoughtfully and thoroughly explored, weighing the unique risk/benefit calculation for children. The risk/benefit calculation for children is not the same as for adults. Children are NOT little adults with respect to how their immune systems respond to COVID-19 infection or to COVID-19 vaccination. Granting Emergency Use Authorization or Biologics License Approval for pediatric COVID-19 vaccines should be done rigorously with a systematic and unbiased analysis of pediatric-specific research.
The pressure is on, for parents and kids, to make a decision – and it's intense. There should be no shame in questioning or in hesitating. As parents, we bear the weighty burden of living with the potentially lifelong consequences of our decisions for our children. We must be given the information needed to make a calm, rational decision based on science – without fear, without shame, and without guilt.
Knowledge is Power. So let's start with what the science tells us so far.
COVID-19 in children – hospitalization rates
In May 2021, children made up an increasing percentage of new overall COVID-19 cases in the US, up to 24.3%. However, as of June 3, 2021, new child COVID-19 cases had dropped to 14.1% of all reported cases in the US. There were 16,281 new total child COVID-19 cases the week of May 27 – June 3, 2021. This is LESS THAN HALF the 34,463 new child COVID-19 cases reported just the week prior, from May 20 – May 27, 2021. And children continue to be at very low risk for serious disease, hospitalization, MIS-C and death. (7)
Hospitalization rates have remained low, with only 0.8% of children with COVID-19 requiring hospitalization, even with circulating SARS-CoV-2 variants. And two recent studies found that pediatric COVID-19 hospitalization rates may be over-reported by as much as 45%. Almost half of children were hospitalized with other non-COVID reasons, and had an "incidental COVID-19 diagnosis on universal screening." In one study (37), 87% of children who had incidental COVID-19 diagnosis were asymptomatic. In the other study (38), nearly half (47%) of the children with an incidental COVID-19 diagnosis and who were potentially symptomatic "did not manifest COVID-19 disease that would otherwise require hospitalization."
A recent report sounded the alarm that while COVID-19 hospitalization rates among 12–17-year-olds remain rare, there was a "worrisome spike" in April 2021 – which struck a little fear in my heart, as a pediatrician and a mom. Thankfully, a closer look at the actual data (39) tells a different story. COVID-19 hospitalization rates peaked in January 2021 at 2.1 per 100,000, dropped in March 2021 to 0.6 per 100,000 and did rise to 1.3 per 100,000 in April 2021. But further analysis (40) of hospitalization rates show that as of May 29, 2021, hospitalization rates in 12 to 17-year-olds were back down to their low of 0.6 per 100,000.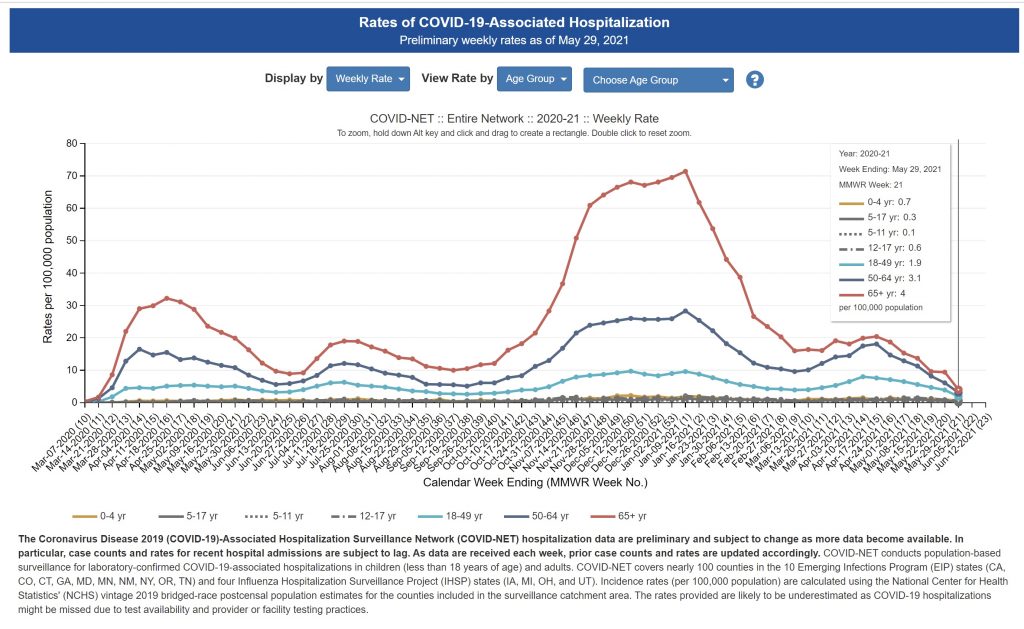 What about Delta and children? Despite the media panic that Delta is more serious for our children, the data is not convincing. We need to slow down and take a calm, rational look at what the data actually tells us. Delta is absolutely more transmissible – and as our children are out in the world more, more children will contract COVID-19. However, the data from the American Academy of Pediatrics show that while more children are getting INFECTED with Delta, children do NOT seem to be getting sicker with Delta.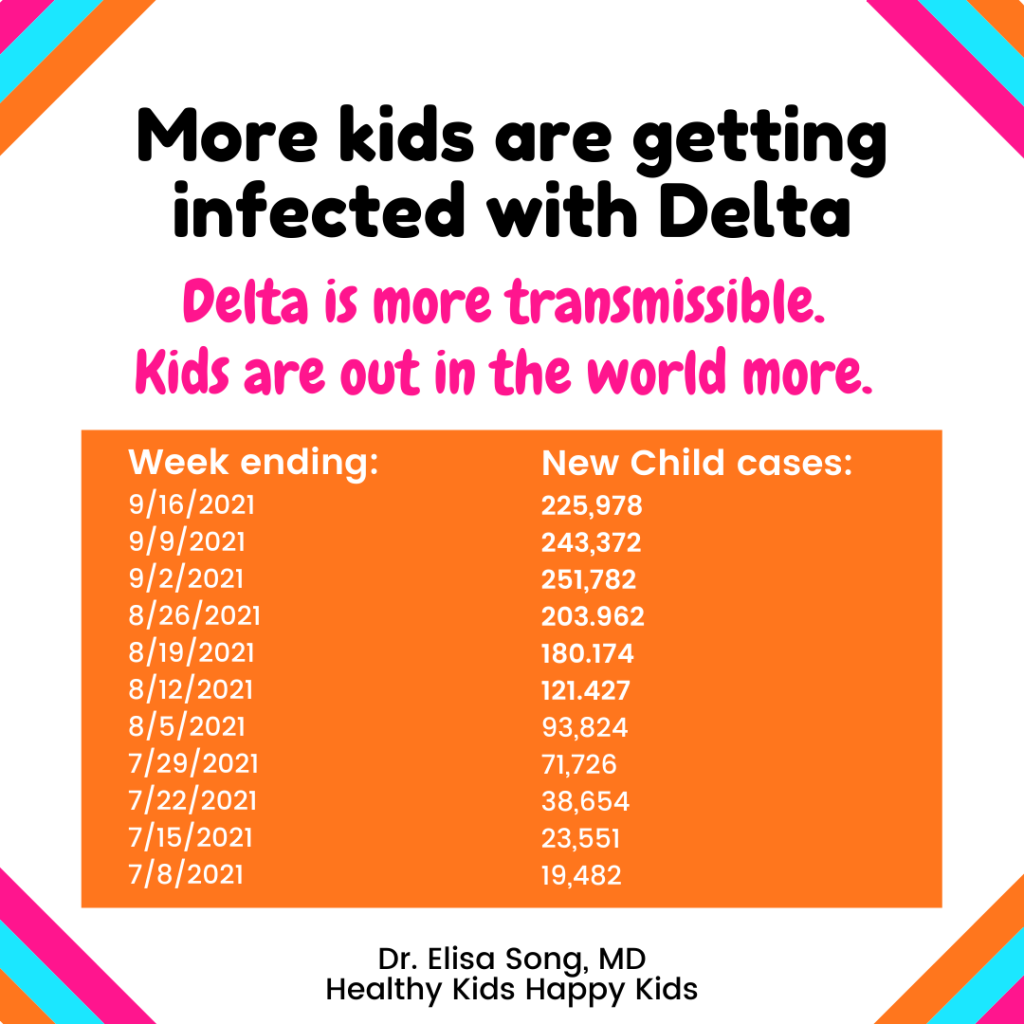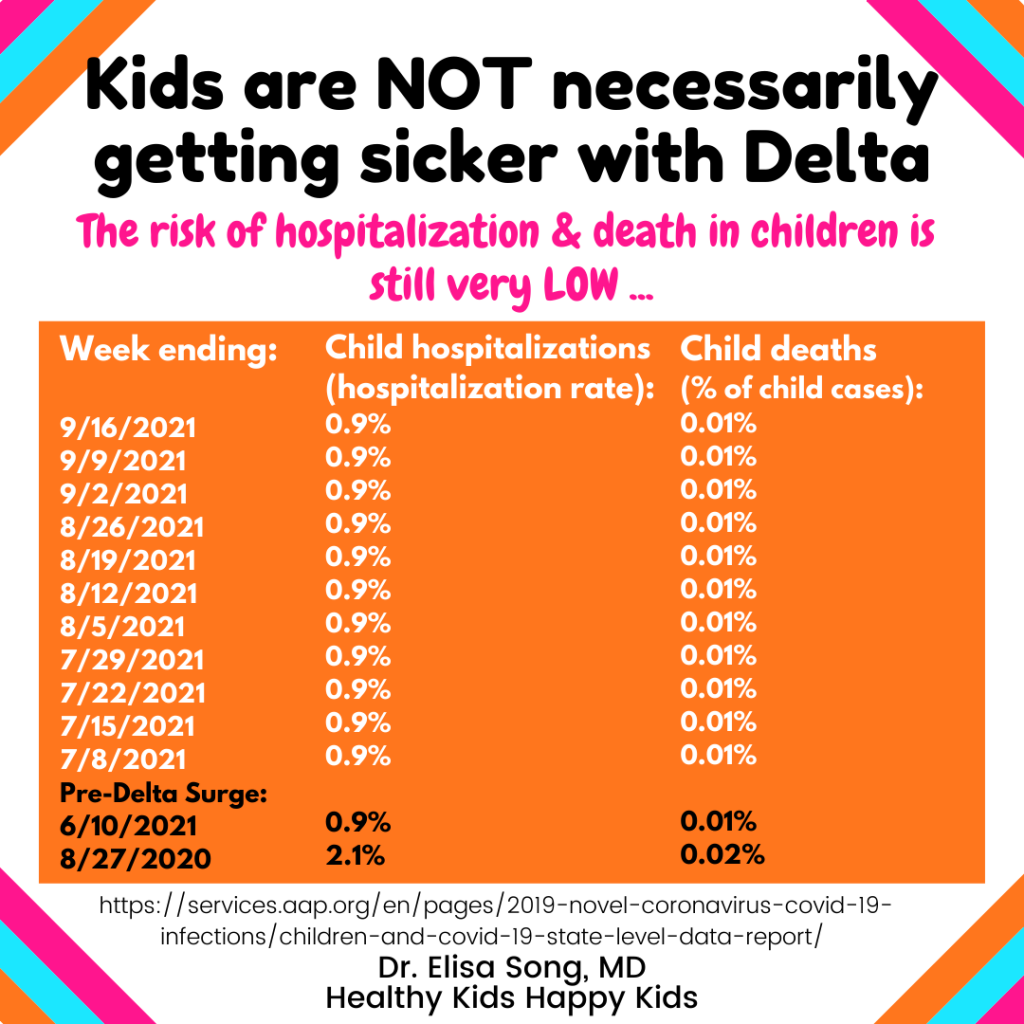 Data from the AAP shows that despite the higher numbers of children testing positive for SARS-CoV-2, hospitalization & death rates have remained the SAME very low rate, EVEN with Delta making up the majority of COVID-19 cases in the US since July 2021. In comparison, child COVID-19 hospitalization & death rates were HIGHER one year ago when Delta was not a concern.
The American Academy of Pediatric report comments: "Unknown: number of children infected but not tested and confirmed." Up to 99.2% of children may have asymptomatic or mild COVID-10 disease. With the likely high UNKNOWN number of children infected, but NOT tested & confirmed, the actual RISK of serious child COVID may be even LOWER than reported. NIH Director Dr. Francis Collins notes that the U.S. does not currently have the "rigorous data" needed "to show for sure" whether the Delta variant is more serious for children, and "better comparisons" are needed "to be sure of that."
A CDC analysis of ER visits and hospitalizations for children 0-17 years of age between August 2020 – June 2021 when Delta was not predominant compared with the period between July 2021 – August 2021 confirms that while more children and teenagers were infected with Delta, infection with Delta is not more severe.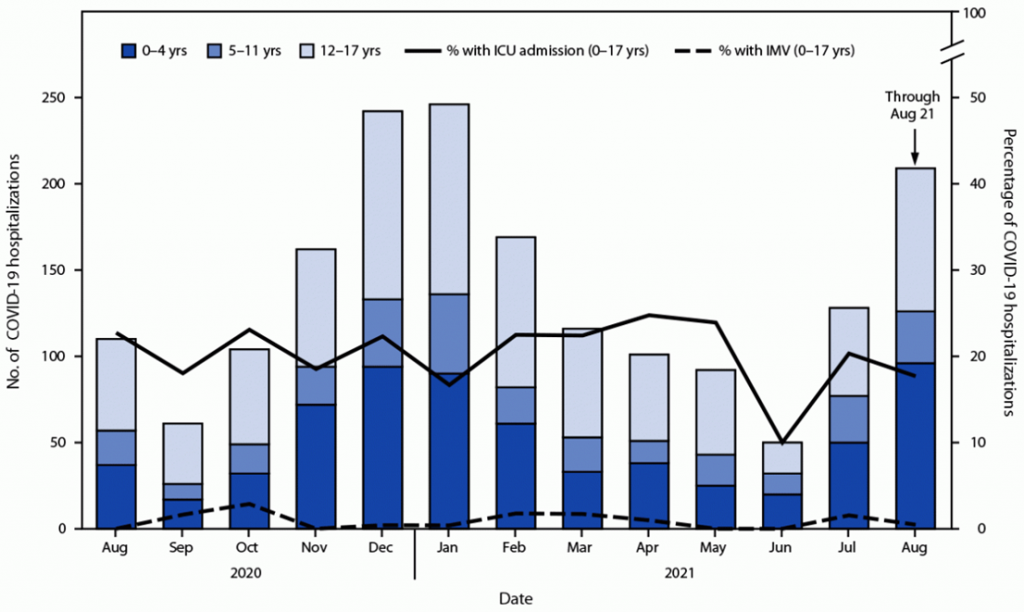 The median length of hospital stay for 0-17 years was 3 days pre-Delta, and 2 days with Delta. Pre-Delta, approximately 10-25% of hospitalized 0-17 year old required ICU admission, compared with 18-20% with Delta. The authors note that, "it is not clear whether the Delta variant causes more severe illness in adult or pediatric populations. Although it is possible that increases in COVID-19–related ED visits and hospital admissions for pediatric patients with confirmed COVID-19 could be related to increased severity of disease for the Delta variant compared with severity for earlier circulating variants, increases in ED visits and hospitalizations could be related to other factors such as increased transmission."
Which children are at risk for hospitalization?
This is not to make light of the fact that some children, albeit a vast minority, are getting seriously sick with COVID-19, and some are dying. Every death is one too many, and it is imperative that more research be done to elucidate which children are more at risk for serious COVID-19 morbidity and mortality to more rationally and scientifically guide policy and parental decisions.
This pandemic has shined a glaring light on racial and ethnic inequities in health, and the increased risk for serious COVID-19 and death of lifestyle-related conditions for both children and adults.
In an analysis of pediatric hospitalization rates between Mar 2020 and July 2020, (41) while non-Hispanic White children had COVID-19 hospitalization rates of 2.1 per 100,000, Hispanic children and Black children were hospitalized at a rate of 16.4 per 100,000 and 10.5 per 100,000, respectively.
While almost half of hospitalized children have no underlying medical condition, the most frequently seen risk for hospitalization in children is obesity (the 2nd highest risk factor in adults) – a modifiable, lifestyle-related disease.(13)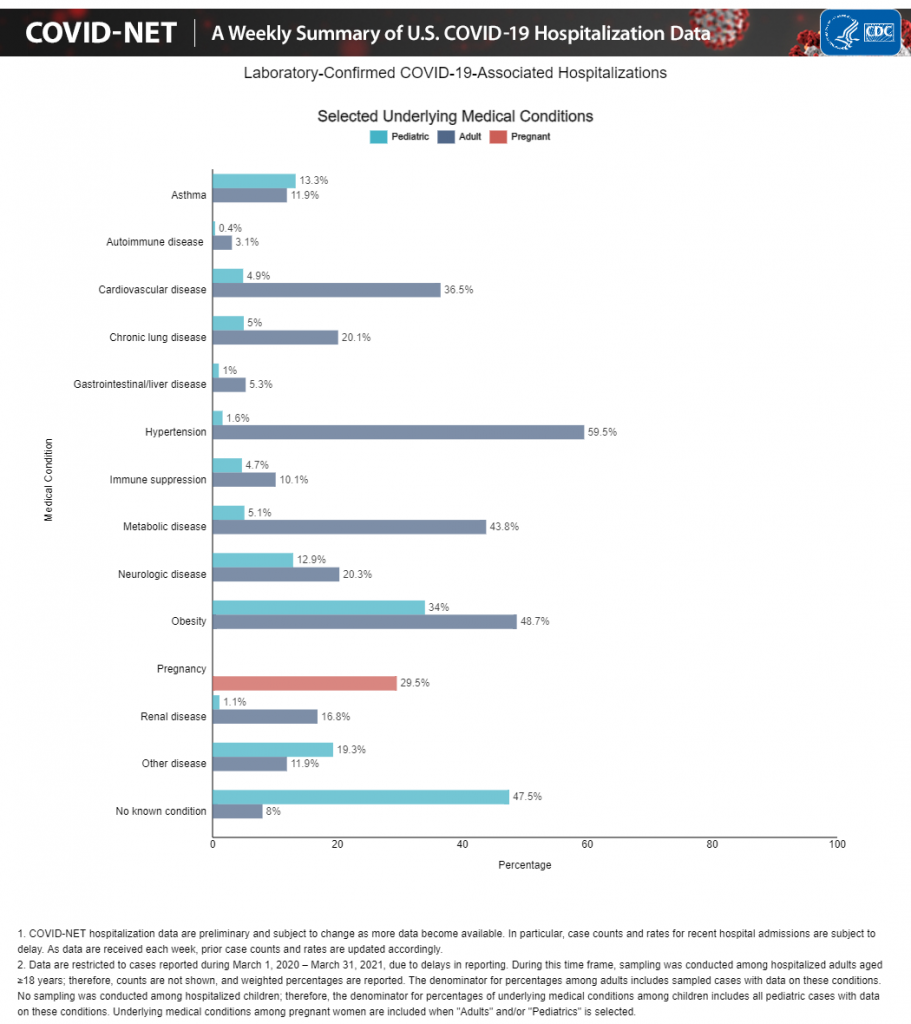 COVID-19 in children – mortality rates
Mortality rates have thankfully remained very low since the beginning of the pandemic – even with the Delta variant as noted above, with only 0.01% children diagnosed with COVID-19 ending in death. (7) While every child death is one death too many, we must keep in perspective that 99.99% of all children diagnosed with COVID-19 will survive.
An analysis (42) of over 2.8 million 0 to 24-year-olds with positive SARS-CoV-2 tests between March 2020 and December 2020 confirmed very low hospitalization rates and ICU admissions in children under 18 years. While hospitalization and ICU rates were slightly increased for the 0-4 year and older teen age groups, the mortality rate was virtually zero across all age groups.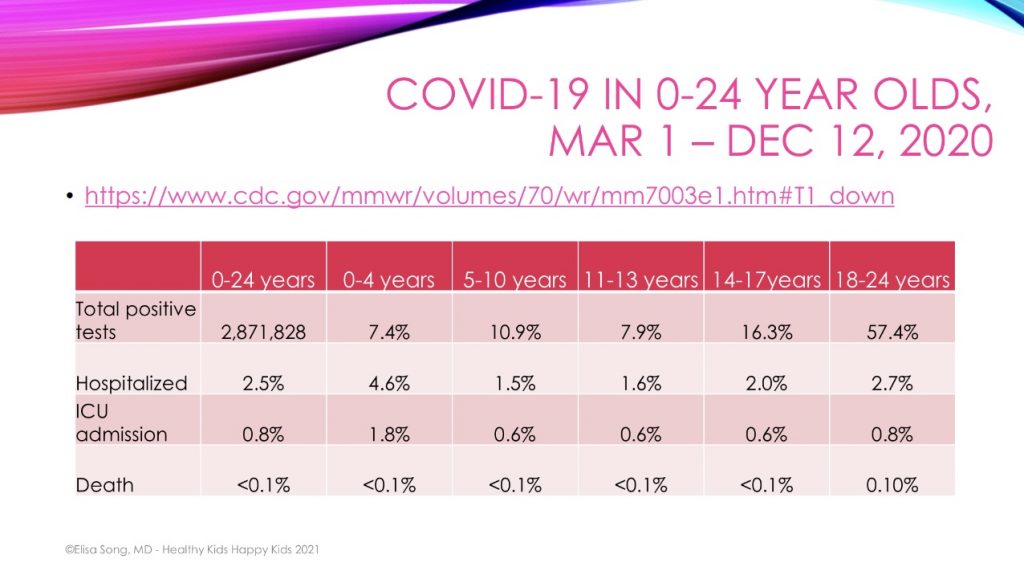 The risk of dying of COVID-19 in US children 0-4 years is 0.34 per 100,000, and for children 5-14 years it is 0.16 per 100,000. (43) In contrast, the risk of dying from influenza during the 2018-19 flu season in children 0-4 years of age was 1.3 per 100,000, and in children 5-17 years that number was 0.4 per 100,000. (44)
In even starker contrast, before the pandemic suicide was the 2nd leading cause of death in our youth, only behind accidental injury. Children 10-14 years old were 13.3 times more likely to die from suicide than influenza, while children 15-19 years old were 27 times more likely to die from suicide than influenza. (45) Childhood anxiety, depression, and suicide have skyrocketed during the pandemic, and Children's Hospital Colorado recently declared a state of emergency in youth mental health (46) as suicide became the number one cause of death for youth in the state. We faced an epidemic of childhood anxiety and suicide long before the pandemic – an epidemic that has only worsened with the social isolation that many of our children have suffered this past year and a half.
As we emerge from the pandemic with an ever-worsening epidemic of childhood anxiety and suicide, we must begin to reassess where our public health priorities lie.
What About Multi-System Inflammatory Syndrome in Children (MIS-C)?
Some kids do get sick from COVID-19. Very sick … Take Bodi, who had all the signs of developing Multisystem Inflammatory Syndrome in Children (MIS-C), with hypoxemia and shortness of breath, fever for 7 days, severe abdominal pain and headaches, eye-blinking/rolling and face-grimacing tics, visual and auditory hallucinations with seeing scary people and hearing mean voices, pink eyes, hives, and bizarre personality changes.
Multi-System Inflammatory Syndrome (MIS-C) was first identified in England as a cluster of Kawasaki disease-like presentations in April 2020 in a small number of children, mostly Black, that seemed temporally associated with SARS-CoV-2 infection. We now know that MIS-C is a rare but serious hyper-inflammatory, post-COVID complication that typically occurs 2-4 weeks after initial SARS-CoV-2 infection, even asymptomatic infection.
The CDC case definition for MIS-C is as follows: (47)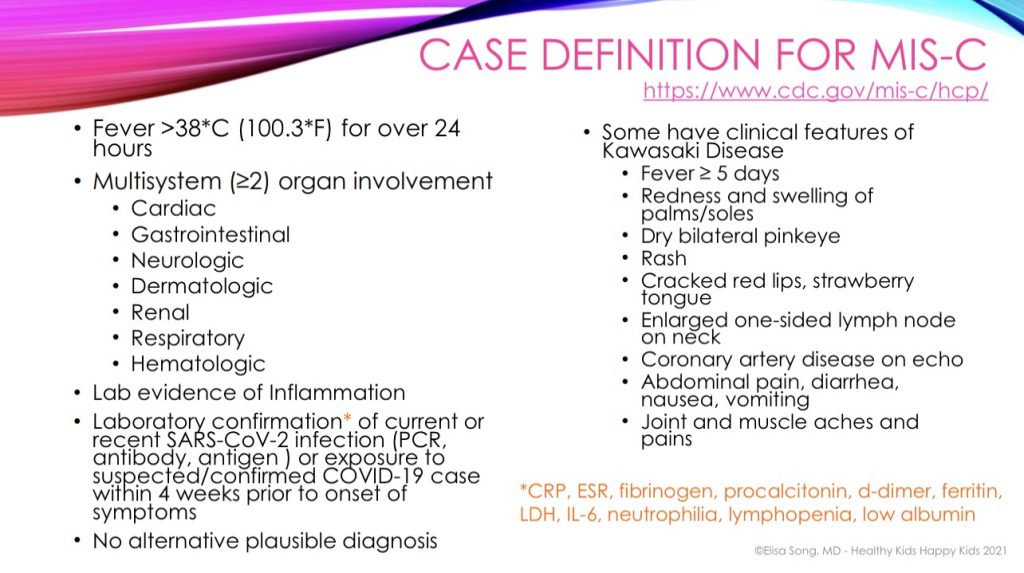 And as I mentioned, Bodi was hospitalized in March 2020 with all of the signs of heading toward MIS-C, before MIS-C had even been described.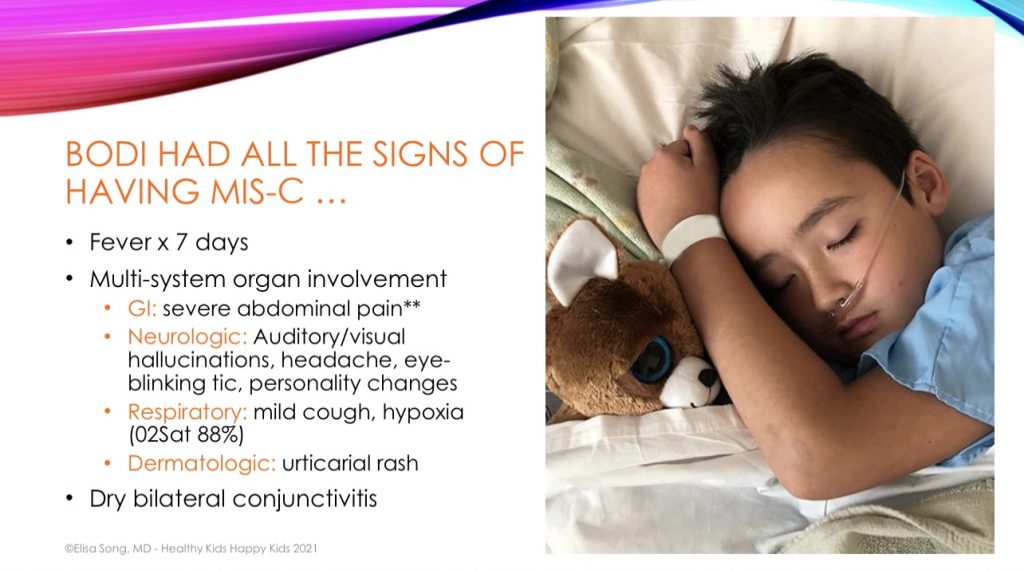 For those of you who know Bodi's story, you know that I 100% believe that a functional and integrative medicine approach was key for his rapid and complete recovery from possible MIS-C. This approach is what I teach in my online course, Integrative & Functional Medicine Strategies for the Pandemic. (48) and what I've written about in my article A Pediatrician's Pandemic Immune Support Plan: How to Build Immune Resilience. Bodi's symptoms of auditory and visual hallucinations, hypoxemia, abdominal pain, personality changes and facial tics resolved shortly after starting targeted supplements, and he was home in less than 36 hours – just in time for the Easter Bunny! I firmly believe that true immune resilience from SARS-CoV-2 or whatever future pandemics may come will require an integrative and functional medicine approach.
Bodi's scare with MIS-C was the single most frightening experience I've ever had, and I do not wish this upon any parent or child. But even though 58.2% – 63.9% of children hospitalized with MIS-C end up in the ICU, the mortality rate for children from MIS-C remains very low. To put this in perspective, from the beginning of the pandemic to August 27, 2021, there have been: (49)
4,797,683 US child COVID-19 cases reported
4,661 cases of MIS-C
41 child deaths due to MIS-C
If a child contracts SARS-CoV-2, there is approximately a 0.097% chance that they will develop MIS-C. Once a child has developed MIS-C, the mortality rate is 0.88% (higher than the 0.01% mortality rate in children for COVID-19 alone). However, the overall risk of death from MIS-C in any child with COVID-19 infection is 0.00085%.
Does Delta confer a higher risk of MIS-C in children? Unfortunately, the CDC has not done an adequate job in tracking MIS-C cases to know for sure. However, with the data we currently have seem to fortunately show that even with Delta, there does not appear to be an increase in the rate of MIS-C.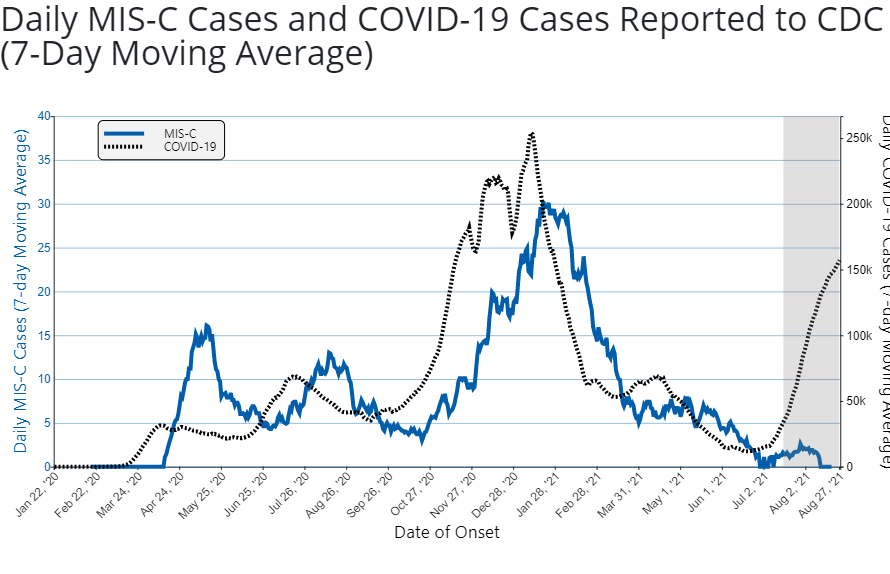 The above graph shows the 7-day moving average number of COVID-19 cases and MIS-C cases with date of onset between January 6, 2020 and August 15, 2021. Note that the left Y-axis marks the number of daily 7-day average MIS-C cases in units of 5 with a scale of 0 to 40; the right Y-axis marks the number of daily 7-day average COVID-19 cases in units of 50,000 with a scale from 0 to 250,000. While the grayed-out area on the right side of the figure may not be complete, as Delta cases have increased, MIS-C cases do not thankfully appear to have increased proportionately.
Which children are at risk for MIS-C?
Once again highlighting racial/ethnic health disparities and lifestyle-related risks factors, an analysis of children with MIS-C found that: (50, 51)
Over 70% were Hispanic or Black (despite Hispanic and Black children making up less than 40% of the US population of children)
A little over half were male
86% were under 15 years of age
2/3rd had no pre-existing underlying medical condition
Obesity was the most commonly reported underlying medical condition
More recent MIS-C data from the CDC (52) through May 18, 2021 shows that:
60% are male
32% are Hispanic; 30% are Black
Median age is 9 years
37% report no underlying medical condition
While almost all children with MIS-C survive, there is some concern for long-term, post-MIS-C health complications. A survey (53) of 46 children with MIS-C 6 months after hospital discharge found that 4% had continued abnormal echocardiograms, 14% had persistent gastrointestinal symptoms, 39% had "minor abnormalities" on neurologic exams, 45% had ongoing muscle weakness, and 40% had severe emotional difficulties.
Long COVID & children
Long-haul, post-COVID symptoms, now called Post-Acute Sequelae of SARS-CoV-2 Infection or PASC, may occur in as many as 10-15%, or more, of children infected with COVID-19, even those with mild infections. (54, 55) Just as for adults, there is an urgent need to identify which children are at risk for Long COVID, the underlying pathophysiology, and how to heal from Long COVID to prevent a potential lifetime of disability. From a functional medicine standpoint, interventions to address mitochondrial dysfunction, (56) mast cell activation, (57) POTS/dysautonomia, (58) and dysregulation of the NLR3 inflammasome (59) will most likely be essential for full recovery.
As much as there have been comparisons to COVID-19 and the flu, both in support of, or opposed to, the vaccine in children:
COVID-19 is NOT like the flu
90% of people with influenza recover within 2 weeks.
Of great concern are the reports of ongoing neurologic and psychiatric symptoms in children with acute COVID-19 or MIS-C, including severe tics (60) and new neurologic deficits. (61) A diagnosis of COVID-induced Pediatric Acute Onset Neuropsychiatric Syndrome (PANS) must be considered in any child who continues to have persistent new neuropsychiatric symptoms. For anyone unfamiliar with PANS, please read my article, Does Your Child Have PANS/PANDAS?. (62)
As poignantly noted by many around the world, Long COVID may be our next pandemic with equal or greater long-term public health and economic consequences:
"This is the other side of COVID: the long haulers that could turn out to be a bigger public-health problem than excess deaths from COVID-19, which mainly affect the susceptible elderly," Tim Spector, Professor of Genetic Epidemiology, King's College London.
"The economic impact will be much greater if younger survivors endure decades of coronavirus-related disability." Olga Jonas, Senior Fellow, Harvard Global Health Institute.
"Experts and officials should stop referring to all non-hospitalized cases as "mild." They should agree on a definition of recovery that goes beyond being discharged from the hospital or testing negative for the virus, and accounts for a patient's quality of life… We cannot fight what we do not measure. Death is not the only thing that counts. We must also count lives changed." Nisreen Alwan, Public Health Professor, University of Southampton.
In my mind, the prevention of Long COVID may be one of the most compelling arguments in favor of a COVID-19 vaccine for children – IF COVID-19 vaccines can be proven to prevent Long COVID
COVID-19 vaccine & kids – safety concerns
While hospitalization, MIS-C, death, and Long COVID in children are uncommon, they cannot be minimized for those children who have been affected. On the other hand, a vaccine to prevent these rare complications must also be proven to have as rare, or even rarer, complications itself. Children have a different response to COVID-19 infection than adults, so it is reasonable to assume that they have a different response to COVID-19 immunization than adults.
mRNA technology – not new, but not "traditional"
None of the current FDA-authorized COVID-19 vaccines is "traditional." Pfizer and Moderna use mRNA technology, while Johnson & Johnson and AstraZeneca use adenoviral-vector DNA technology. These types of gene-based vaccines have not previously been used in traditional pediatric or adult vaccinations. mRNA vaccines have been tested in humans before, for at least four infectious diseases: rabies, influenza, cytomegalovirus, and Zika, but have not been approved and used clinically in humans. DNA vaccines are under investigation for cancer therapy and Ebola virus, but only one adenoviral-vector DNA vaccine is in use today – a rabies vaccine for use in animals.
The following is a list of the different types of "traditional" vaccines given to children and adults. (63)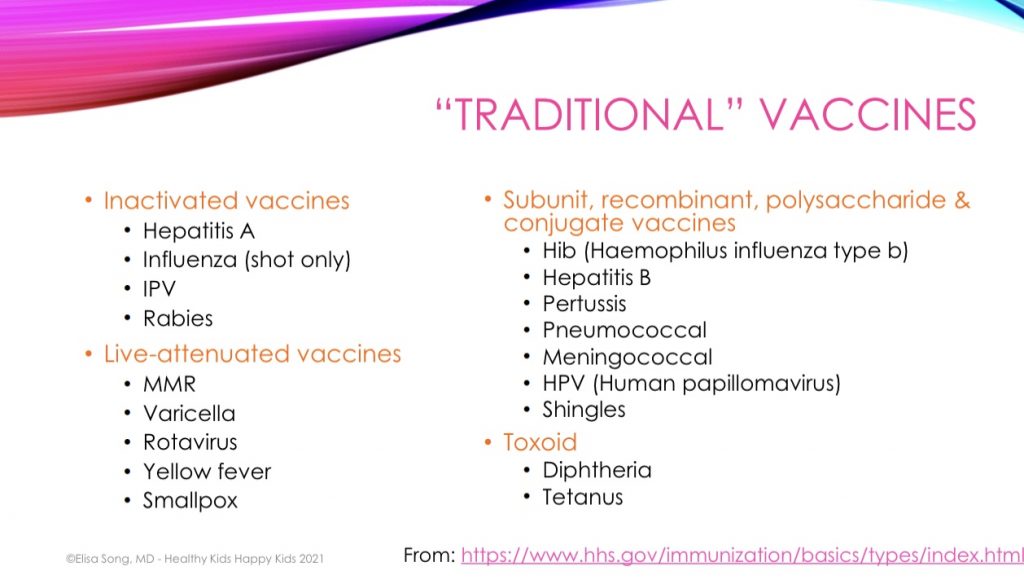 However, non-traditional is not necessarily "bad." In the race to end this pandemic, all traditional and nontraditional vaccine options must be explored. But in all transparent communication from vaccine manufacturers and policymakers, it should be made clear to parents that we have only a few months of short-term safety data, and no long-term safety data, upon which to base our decision for our kids for the currently available COVID-19 vaccines.
Children's immune response to vaccines
As mentioned earlier, children's immune systems do not necessarily behave in the same way as adults to vaccinations, and this must be factored in when assessing the potential risks for serious adverse vaccine reactions in children. COVID-19 vaccine efficacy for children is NOT measured by how well the vaccine prevents infection, severe COVID-19 disease, or death. Because so few children get seriously sick or die from COVID-19, the number of children enrolled in the studies would have to be unrealistically high to see a statistically significant difference in these measures.
COVID-19 vaccine trials can NOT demonstrate that vaccination decrease serious disease and death in children.
Instead, COVID-19 vaccine efficacy in children relies on "immunobridging" to infer vaccine efficacy from "immunogenicity" data. Vaccine trials must show a "noninferior" antibody response in children when compared to 16 to 25-year-olds. In other words, if antibody production in children is AT LEAST as high, or not lower than, the antibody response seen in 16 to 25-year-olds, then the vaccine is considered "effective."
The Pfizer trial (64) compared SARS-CoV-2 neutralizing antibodies 1 month after the 2nd dose in 12 to 15-year-olds and 16 to 25-year-olds. Children 12-15 year olds were administered the very SAME 100mcg of mRNA per dose as for adults.
The result: Antibody response in 12 to 15-year-olds was 1.76X HIGHER than in 16 to 25-year-olds.
Sounds great – children may actually be MORE protected than older populations against COVID-19. But more is not always better …
What does a higher antibody response mean for children? As we've seen with COVID-19 infection, a stronger immune response isn't always optimal. Inflammation, when dysregulated, can lead to cytokine storm and sepsis with disease.
Is it possible that the higher immune response to vaccines in children could increase their risk for a dysregulated inflammatory response and serious adverse vaccine events – both short-term and long-term?
Pfizer recently announced its trial results in 5-11 year olds. While the study has yet to be published or peer-reviewed, what we know so far is that the dosage for 5-11 year olds is approximately 1/3rd the dose for those 12 years and up. The 2 dose-regimen of 10mcg of mRNA per dose administered 21 days apart was found to elicit a "non-inferior" antibody response in 5-11 year olds when compared to 16-25 year olds. • SARS-CoV-2–neutralizing antibody geometric mean titer (GMT) was 1,197.6 (95% CI, 1106.1-1,296.6) in 5-11 year olds vs. 1,146.5 in 16-25 year olds.
It is not yet known whether vaccination in younger children will reduce hospitalization, deaths, MIS-C or long COVID.
Myocarditis, mRNA vaccines & COVID-19 infection
By now, most of you have heard that a probable link between myocarditis/pericarditis and mRNA vaccines (Pfizer and Moderna) has been confirmed, in Israel (65) and in the US (66), for those 16+ years. Myocarditis is inflammation of the heart muscle, and pericarditis is inflammation of the lining of the heart.
Even though these reports remain rare, preliminary reports from the US indicate that rates of post-vaccine myocarditis/pericarditis are significantly higher than the expected rate of myocarditis/pericarditis that would be seen in each age group at baseline.
The Israeli report estimated that between 1 in 3,000 and 1 in 6,000 men ages 16-24 years who receive the Pfizer vaccine will develop myocarditis. While myocarditis does occur naturally every year, the Israeli report found that the rate of myocarditis among vaccinated young men was anywhere between 5 and 25 times higher than the background rate. (67)
We must remember, that with any vaccine, there is a risk of the vaccine causing the very same symptoms of the infection we are trying to prevent. While the potential risk for post-vaccine myocarditis in children is concerning, myocarditis is also a known complication of SARS-CoV-2 infection in children. (68) Both the risks for myocarditis post-vaccine and post-infection are low, but we don't yet know which risk is lower. And there is no data comparing long-term cardiac complications in children suffering from myocarditis, whether due to infection or immunization.
Male sex and younger age are risk factors, but we don't know which younger males are at higher risk. In fact, it may be that the very children who are at risk for myocarditis from infection are those who are at risk for myocarditis from vaccination.
The Israeli report (54) identified a potentially higher risk of post-vaccine myocarditis in those with a history of prior SARS-CoV-2 infection. Studies have shown that those with a history of prior infection have up to a 10-20X HIGHER antibody response after each vaccine dose than those with no evidence of prior infection. My concern for children, and those with prior infection who receive a vaccine, is that theoretically, this stronger immune response could increase the risk of a dysregulated inflammatory response and serious adverse vaccine events, like myocarditis.
I believe that children, teens and adults with known prior SARS-CoV-2 infection should not receive the COVID-19 vaccine until further investigation
At a meeting of the FDA's Vaccines and Related Biological Products Advisory Committee on June 10, 2021 focusing specifically on COVID-19 vaccines for use in pediatric populations, (69) Dr. Cody Meissner expressed concern for potential long-term heart problems from vaccine-induced myocarditis. Dr. Hayley Gans posed the question of whether a lower dosage and a longer interval between Dose 1 and Dose 2 should be investigated for children to mitigate the risk. Dr. Gans also notes that research is actively investigating myocarditis associated with COVID-19 infection, and there is no reason that these same blood markers couldn't be used to try to identify risk factors for post-vaccine myocarditis.
Are there other potential short-term and long-term complications of COVID-19 vaccines in children?
The truth is – we don't know …
Those who tell you that the vaccine is safe and effective and there are no risks for long-term serious adverse events may be right, but they could be wrong.
Those who tell you that the vaccine is not safe or effective, and has too many risks for long-term serious events may be right, but they could be wrong.
While this bit of uncertainty may be acceptable in authorizing emergency use of a vaccine for high-risk populations, it is not necessarily justified for children, the vast majority of whom have mild illness and survive.
Post-infection vs. Post-vaccine triggered autoimmunity
By 2025, it is projected that 8 in 10 children will be diagnosed with a chronic condition. (70) Even during this global pandemic, children are suffering and dying more from chronic illness than from acute COVID-19 infection.
We know that SARS-COV-2 infection can trigger autoimmune reactivity in children (71) and adults. (72, 73) The spike protein from SARS-CoV-2 could theoretically induce autoimmune antibodies after BOTH infection and immunization, (74, 75, 76) against tissue antigens in the brain, mitochondria, pancreas and gut.
The mRNA-based vaccine platform itself may potentially increase autoimmunity by inducing a potent type I interferon response. (77)
We do not know whether autoantibodies produced after infection or immunization will necessarily lead to future autoimmune disease. But if we don't ask the right questions and look for the right answers, we will never know. Autoimmune antibodies should be monitored in both recovered and vaccinated individuals to understand the potential long-term risks of developing autoimmune disease. Autoimmune antibodies may be present for decades before a clinical autoimmune disease develops.
Unfortunately, a pandemic won't wait decades to sort this question out.
Will Antibody-Dependent Enhancement (ADE) occur?
Antibody-Dependent Enhancement (ADE), also called "pathogenic priming," is a concern that has been brought up by various physicians and researchers, including Dr. Mark Sawyer during the FDA's June 10, 2021 meeting on COVID-19 vaccines and children. ADE describes the phenomenon where those who are vaccinated against a disease can become sensitized and develop more severe disease upon subsequent exposure to that disease, compared with those who have not been vaccinated. If the immune response to vaccination does not create optimal neutralizing antibodies to completely kill the virus on subsequent exposure, suboptimal neutralizing or non-neutralizing cross-reactive antibodies can bind to the virus and ENHANCE entry of the virus into host cells where they can replicate and produce an INCREASED viral load compared to those who are not vaccinated. (78)
ADE was seen in children after administration of the Dengue virus vaccine, Dengvaxia, in children 2-16 years of age. Vaccinated children in the 2-5 year age group were found to be almost 8 times more likely to be hospitalized for severe dengue compared to children in the placebo group. The risk for ADE was worse in children who had no history of prior Dengue infection. And importantly, the increased risk for disease severity was not identified until 3 years AFTER dose 1 of the 3-dose Dengvaxia vaccine was given. (79)
There is theoretical concern that ADE may similarly occur after COVID-19 vaccination, and that the severity of post-vaccine breakthrough COVID-19 disease will be increased upon subsequent exposure to SARS-CoV-2 or similar coronaviruses, possibly mediated by autoimmune mechanisms. (80, 81)
Dengvaxia is a live-attenuated vaccine. While this is a different platform than the mRNA vaccine currently authorized in children 12 years and up, antibody-dependent enhancement can theoretically be seen after any vaccine that does not completely and effectively neutralize and eradicate the virus. ADE was seen in several animal SARS-CoV-1 spike protein-based vaccine trials. "Priming" of the immune system with recombinant SARS spike-protein-based vaccines pathogenically increased morbidity and mortality when vaccinated animals were exposed to wild SARS. (81)
It is not known whether COVID-19 vaccination causes antibody-dependent enhancement in humans. We do not appear to be seeing this phenomenon at the moment, but it was not until 3 years post-vaccine that ADE was seen with Dengvaxia. Identifying this phenomenon requires close monitoring of all post-vaccine breakthrough cases with a comparison of breakthrough infections that result in asymptomatic and mild-moderate infection versus those that result in severe disease and death.
Unfortunately, as of May 1, 2021, the CDC changed its definition of post-vaccine breakthrough infections. The CDC is now only monitoring severe COVID-19 disease that results in hospitalization or death. They will no longer track breakthrough infections that result in asymptomatic or mild-moderate disease. We may never have the comparative data to adequately assess the risk of antibody-dependent enhancement after COVID-19 vaccination.
Concerns that warrant further investigation
Additional concerns have been identified that must also be adequately investigated and monitored to ensure long-term safety for both children and adults. These concerns include:
Menstrual irregularities have been noted by many women around the time of COVID-19 vaccination. Given these increasing reports, Dr. Katharine Lee and Dr. Kathryn Clancy of University of Illinois are conducting a survey (82) on COVID-19 vaccines and menstrual experiences. But this survey is only for women 18 years and up. We do not know if there any potential long-term implications for girls who are pre-menarchal, or for whom their menstrual cycles have not yet regulated. There is currently no scientific evidence proving or disproving that vaccines can cause menstrual irregularities. Systematic post-vaccine follow-up must be performed in females of all ages.
Post-vaccine shingles flares with reactivation of latent varicella infection have been reported (83), both in otherwise healthy individuals and those with chronic health concerns. I personally have had pediatric patients and parents in my practice experience severe shingles flares and herpes gingivostomatitis reactivation. We do not know the post-vaccine implications for children with PANS/PANDAS or chronic infections and their risk for reactivation of strep, Epstein Barr virus, Lyme or other infections.
So, should kids get a COVID-19 vaccine?
While the United States is pushing full speed ahead with COVID-19 vaccinations for children of all ages, the United Kingdom's Joint Committee on Vaccination and Immunisation (JCVI) is taking a more measured approach. They are currently offering 16-17 year olds the 1st dose only, with the intention that they will get a 2nd dose at some point. The UK based their decision on the assumption that younger people will have > 80% protection from hospitalization and death after the FIRST dose because "younger people respond better to vaccines and some will have already had the COVID-19 infection … Prioritising the first dose and delaying the recommendation on the second, allows the JCVI to provide the best available advice with the latest available information for the second dose, whilst providing some immediate protection from severe disease." In addition, the UK is intentionally increasing the interval between doses based on the evidence that a greater interval between doses may improve immune protection while minimizing risks for serious adverse reactions: "It is likely that, when the second dose is offered, this will be from 12 weeks after the first dose. The benefit of having an 8 to 12 week gap between the first and second doses is becoming increasingly clear, as it offers more protection for a longer period of time."
The JCVI currently does NOT recommend COVID-19 vaccination for healthy 12-15 year olds given that children are at such low risk for serious disease. Professor Wei Shen Lim, chariman of COVID immunisation for the JCVI stated that "the margin of benefit is considered too small to support universal Covid-19 vaccination for this age group at this time." On the other hand, in the hopes that vaccinating children might reduce child cases and prevent disruptions to school attendance, the UK's chief medical officers have decided to recommend ONE dose of the Pfizer COVID-19 vaccine for all 12-15 year olds.
The 2-dose Pfizer COVID-19 vaccine has already been authorized for all 12-15 year olds in the United States, and authorization for 5-11 year olds will likely follow shortly. But before universal child COVID-19 vaccines are authorized or mandated, the following questions must be considered:
Should Emergency Use Authorization be granted for vaccination in children who are at risk for serious morbidity and mortality (i.e., children with severe neurodisabilities, immunosuppression, obesity, diabetes, serious chronic heart, lung, kidney and liver disease) – and for whom COVID-19 presents a true emergency?
Should the interval between doses be increased to 8-12 weeks for children?
Should a 1-dose regimen be considered for children?
Should children with natural immunity from prior infection even receive a vaccine?
For children who are at very low risk for serious disease and death, and for children who may be at higher risk for serious adverse vaccine reactions – the burden of proof remains on vaccine manufacturers, researchers and policymakers to take adequate time and conduct the necessary research to ensure short-term and long-term safety to the extent possible before authorizing COVID-19 vaccines for emergency use in children and teens. Parents should not be left with the untenable situation of having to decide whether to trade unclear short-term benefits for unknown long-term complications.
These are unprecedented times, with more unknowns than knowns. Pediatric COVID-19 vaccines may be a way out of this pandemic. But this conclusion should not be made hastily. The only way out of this pandemic will be with science – science that asks the right questions and presents the data in a systematic, unbiased way. Science that seeks the truth, even if what is found conflicts with what was previously thought to be true – even if that means challenging and changing current beliefs, policies, and practices.
My goal through the pandemic has been to provide parents with a systematic, unbiased review of the science, to be able to navigate the pandemic with calm and confidence, using facts over fear.
I am not here to tell you whether or not your child should receive a COVID-19 vaccination. I 100% believe that this should be a decision made by parents and children, weighing each child's and family's unique risks for serious disease vs. their unique risks for serious adverse vaccine reactions.
As I've said many times before:
I am not 100% pro-vaccine.
I am not 100% anti-vaccine.
I AM 100% pro-child.
I am here to support parents and children no matter what they choose. But I implore you to make your decision based on science and not fear. And no matter your decision, building cellular resilience is a priority. There are evidence-based strategies to optimize immune resilience and vaccine effectiveness while mitigating risks of severe disease and serious adverse vaccine events. This is the evidence-based approach that I teach in my masterclass, An Integrative & Functional Medicine Approach to the COVID-19 Vaccines, (84) which lays the foundation for my masterclass on COVID-19 vaccines and children where I hope to empower parents to make the most rational, science-based decisions for their whole family: COVID-19 Vaccines & Kids: What a Pediatrician Wants You to Know. (85) Be sure you're signed up for my Healthy Kids Happy Kids newsletter (86). to keep up-to-date on all things integrative and functional medicine pediatrics.
Knowledge is Power.
References: